Piramal Mahalaxmi Final Tower III: North Tower
When you think of having a luxurious and beauteous living place that is in the center of the spellbinding energy and top class amenities Piramal Mahalaxmi at South Mumbai is the first and foremost name which comes in your wit. Build by pioneer developers Piramal Realty, Piramal Mahalaxmi is a timeless development that offers masterfully crafted private residences. With carefully selected amenities, superb design aesthetics, comely landscape, and acres of open place, North Tower new launched Tower in South Mumbai is giving a global lifestyle where buyers can enjoy with a good community and get the finest luxury…
Having a home at North Tower is literally a superb experience on various levels including astounding views of 225 acre Mahalaxmi Racecourse, Mumbai harbor, placid views of Arabian Sea, grand pathways, awesome entrance, and a rare tranquility. At North Tower Piramal Mahalaxmi everything is thought finely and thoroughly to make a living environment that exceeds the mundane into the realm of dreams.
The new Tower at Piramal Mahalaxmi is bought to you by Piramal group's real estate segment Piramal Realty. Piramal Reality is India's most admired real estate company and is focused to transform the Mumbai's skyline.
It has developed various projects in Mumbai including Piramal Vaikunth at Thane, Piramal Revanta at Mulund, Piramal Aranya at Rani Baug and latest and most admiring development Piramal Mahalaxmi at South Mumbai. Piramal Mahalaxmi has three towers including South tower, Central Tower and now Piramal Mahalaxmi has come up with its new and final tower – Tower III – North Tower.
North Tower offers 2 and 3 BHK luxurious and spacious private residences with all facilities and unparalleled amenities you can think of having in your life. Homes at North Tower are energy efficient and practical that makes it eco-friendly as well. The private residences are built with huge windows, dining rooms, separate living rooms, a kitchen and also a balcony. North Tower has the vigor to put you in a dilemma in choosing most aesthetic amenity from an array of luxurious amenities.
The interiors of the homes at Piramal Mahalaxmi are chosen in a way that they reflect nature's surrounding splendors. It comprises of natural light that makes you feel neighboring atmosphere. North Tower is built in a way that the whole community residing can avail proper benefits of the offerings. North Tower offers a variety of conveniences having huge spaces for socializing yourself. It provides a plethora of facilities including:
clubhouse lounge
Rooftop deck
Amphitheater
Reading corner
Gymnasium
Squash court
Spa
Tennis court
Jogging track
Basketball court
Badminton court
Party Lawn
Large outdoor pool with a different kid's pool
Jacuzzi
Piramal Mahalaxmi has started pre-booking of its luxurious North Tower. Contact us at 9958959555 or visit our website – www.piramalmahalaxmi.net for any sort of assistance related to pre-booking.
Features of private residences as North Tower
North Tower has come up with luxurious residences with uninterrupted and proper power supply and water supply thus giving you high quality and budget-friendly services. With proper meticulous planning and flawless execution, the homes at North Tower surpass every expectations.
It is currently providing 2 BHK private residences and 3 BHK private residences. Carpet area and price of Private residences are as follows:
2 BHK private Residence
View – Harbor view
Carpet Area:  750 sq.ft.
Price – Starts from Rs. 3.3 Crore
3 BHK private residences
View – Mahalaxmi Racecourse / Arabian Sea
Carpet Area: 1050 Sq.Ft
Price – Starts from Rs. 6.9 crore
North Tower's location is chosen talking all compulsory parameters into consideration. It is located in Mumbai – the 12th wealthiest city of the world. In Mumbai North Tower location is at the great southern precinct; South Mumbai. North Tower offers you a chance to live in the premium residential neighborhood of the city.
North Tower is close to important landmarks and various tourist attractions including High Street Phoenix Mall, Nehru Planetarium, Haji Ali Dargah and various well-renowned schools and hospitals. Major highway and airport connections include:
Lalbaug Flyover – 1.6 Km
Elphinstone Flyover – 2.9 Km
Western Express Highway – 11.8 Km
Bandra Worli Sealink – 5.4 Km
Domestic Airport – 17.9 Km
International Airport – 18.3 Km
The pre-booking of the home of your dreams at North Tower has been commenced and applications for EOI are getting accepted. The last date for filling EOI applications is June last.  Don't wait for the last minute rush for filling EOI application and availing great benefits of its.
Every candidate who fills EOI application will be provided the benefit of up to 10 Lakh if he deposits cheque of 1 Lakh while filling EOI application for 2 BHK and for 3 BHK you can avail benefit upto15 lakh on filling EOI of 2 lakh only.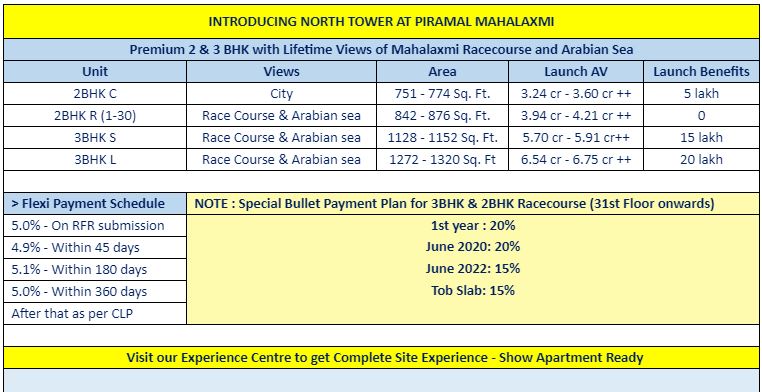 Don't hesitate to contact us at 9958959555 or visit our website – www.piramalmahalaxmi.net for EOI applications and pre-booking of the home if your dream at gigantic North Tower. You can also visit North Tower at its site location:- Piramal Mahalaxmi, Saneguruji Road, Jacob Circle, Mahalaxmi (E), Mumbai – 400011
https://www.piramalmahalaxmi.net/piramals-and-ambanis-piramal-mahalaxmi-north-tower/
3 Towers in 4 Acres project over the South Mumbai Skyline price starting @Rs. 2.9Cr only. CALL+91-9958959555
Premium lifestyle with class amenities & unmatched connectivity. Book Now & Save Big! Download brochure.CALL+91-9958959555